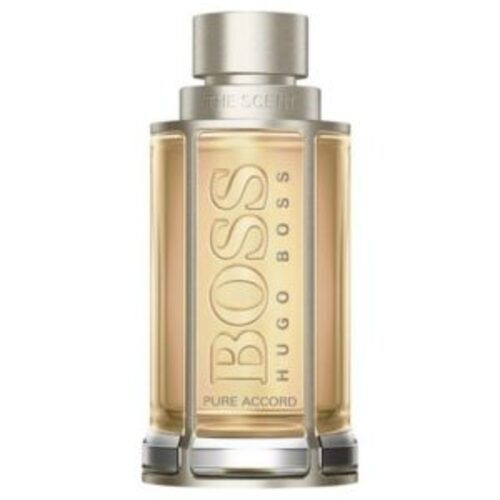 The Scent Pure Accord by Hugo Boss is a novelty, embodied on screen by Jamie Dorman, alongside the attractive model Brigit Kos. As its name suggests, this is a new reinterpretation of Hugo Boss's iconic The Scent, designed rather, in 2015. Once again, this juice gives pride of place to seduction. With him, it is a question of sensuality and complicity, for an infinitely luminous rendering. So, how about pushing the spray cap of its new champagne box to get drunk on its aphrodisiac breath?
The new Hugo Boss bottle
The Scent Pure Accord by Hugo Boss is presented in a rectangular cardboard box, as sober as it is refined. This combines a champagne color with a few gray shades, more masculine. With him, all is softness and refinement. In this packaging hides the emblematic bottle of the Hugo Boss brand, a sort of thick glass cylinder, itself surrounded by a few metallic elements. For this The Scent Pure Accord edition, the shape remains the same, but the champagne color dominates. The name of the Hugo Boss brand is embossed on the glass itself and this prestigious case is available in two different sizes, 50 or 100 ml.
The aphrodisiac and fruity breath of The Scent Pure Accord
On the scent side, The Scent Pure Accord takes up the main ingredient of The Scent saga: the maninka fruit, whose exotic breath comes from South Africa. It must be said that The Scent was the very first juice to contain it. The Scent Pure Accord could not do without it! Here, this raw material deploys a fruity and aphrodisiac breath, further amplified by more lively notes of ginger. By the way, this other ingredient gives The Scent Pure Accord a more peppery and fiery boost. However, the whole quickly softens at its base. The Scent Pure Accord by Hugo Boss ends with a final touch of white suede, a wildly sensual ingredient, bringing to this essence a new balance between warmth and light. The Scent Pure Accord is inspired by a timeless seduction and a feeling of total fulfillment.
The Scent Pure Accord, the fragrance of a caring and seductive man
While the Hugo Boss house had accustomed us to perfumes designed for ambitious and careerist men, The Scent collection is moving towards a whole different universe. This time, the man who wears this fragrance seems more concerned with his personal development than with his professional life. Listening to his partner, he knows how to be tender when needed while being very attractive. Endowed with an assertive charisma and unfailing confidence, he has a unique power of attraction. With him, whispering becomes more effective than shouting. This whisper invites closeness and intimacy.