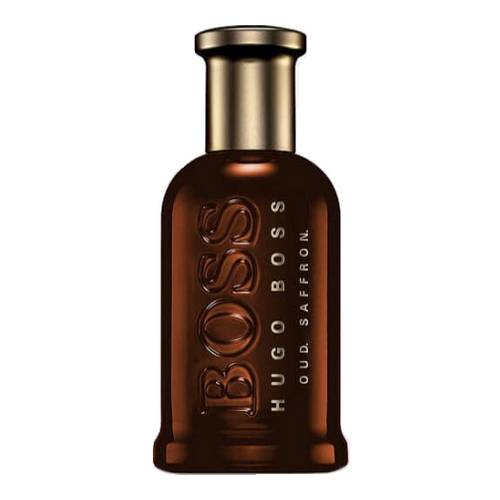 Boss Bottled by Hugo Boss returns in a spicier form: Boss Bottled Oud Saffron
Boss Bottled by Hugo Boss was born just 20 years ago. In 1998, it appeared on the shelves of men's perfumery, embodying their elegance like never before and gracefully combining classicism and modernity. Since then, Boss Bottled has become inseparable from the image of the successful businessman. Easy to wear in all circumstances, it is in tune with the masculine universe and displays an obvious signature. However, year after year, Boss Bottled reinvents itself and gives us other male portraits. This time, in 2019, it becomes Boss Bottled Oud Saffron, in a spicier and highly refined version.
Boss Bottled Oud Saffron, a concentration of spices and luxurious woods
Boss Bottled Oud Saffron is an incisive fragrance that is nonetheless very refined. It sets off on a duet of rose and saffron. The rose immediately displays the natural elegance of the man who wears this perfume. Flower widely used in perfumery for women, it is sometimes invited in compositions for men and brings them more lightness and freshness. Its breath is both fruity and lemony. It brings a warm and volatile part to the top notes of this perfume, while combining with the most luxurious spice in the world: saffron.
Here, this ingredient turns out to be slightly leathery, which only amplifies the top notes of Boss Bottled Oud Saffron. Then, the cistus affirms its masculinity in its heart. Extracted from a resin from a Mediterranean shrub, it gives off here a warm and resinous breath, whose animal power is somewhat reminiscent of that of incense. More than ever, Boss Bottled Oud Saffron is part of an oriental and chypre register. It finally ends with one of the most popular woods in fine perfumery at the moment: oud wood. Already present in the previous Boss Bottled Oud of 2015, it deploys here its caramelized and aniseed scent, close to that of liquorice.
When the Boss Bottled bottle darkens
Boss Bottled Oud Saffron does not shy away from belonging to the great Hugo Boss family, on the contrary. Its bottle has the same shape as that of its elders. It is a cylindrical flange resting on a wider base. Well in his support, Boss Bottled Oud Saffron sticks to the image of a man sure of himself and perfectly reliable. What is more, the shape of this bottle greatly facilitates its handling. For the occasion, as if to symbolize the heat it contains, Boss Bottled Oud Saffron has opted for walls that are darker than in the past. The transparency has disappeared in favor of a coppery brown, surmounted by an infinitely refined golden cap. Instinctively, Boss Bottled Oud Saffron's aesthetic speaks volumes about his incandescent breath.