Hugo Boss is a German brand created in 1924. If for a long time, Hugo Boss was only a brand of work clothes, then of ready-to-wear for men, the brand knew how to reinvent itself, to rejuvenate itself and to propose since 1984, high quality fragrances.
After Boss Number One, Hugo Boss will present Boss, but it was not until 1995 that the brand met with enormous success with Hugo, a very masculine, green, lively and aromatic fragrance, nestled in a flask-shaped bottle. The Hugo saga can then begin by leaving the Hugo Boss brand with an image of eternal youth.
Hugo Man, the fragrance of a new generation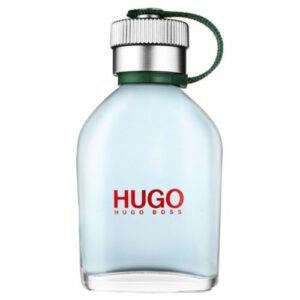 Hugo Man comes out in 2017 and wants to be resolutely modern
Modern and resolutely young, Hugo Man is the scent of change. According to the brand Hugo Man is a fragrance dedicated to men who want to lead their lives as they see fit.
Released in 2017, Hugo Man is a contemporary fragrance that goes straight to the point. Both fresh and floral, the Hugo Man fragrance shows a very dynamic aspect.
If bergamot, green apple, and spearmint are present in the top notes, the aromatics come to invite themselves in the heart notes and we thus find thyme, basil or sage. Designed by Petter Schmitt, the bottle is as original as it is masculine. A delicate fragrance of freedom, Hugo Man will be represented first by model Werner Schreyer, then later by Jonathan Rhys-Meyers and Jared Leto.
Hugo Reversed, the fragrance that changes perspectives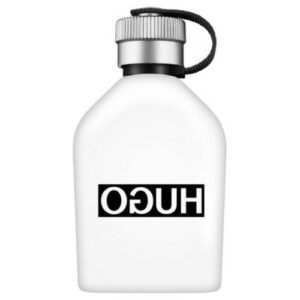 Hugo Reversed, "it's time to change the outlook" according to Hugo Boss!
Without any doubt, the very singular universe of the sober and elegant masculine perfume Hugo Man plunged us in 1995 into a universe which will mark the young generation so well that it will become emblematic of it. Who has forgotten this slogan launched as a challenge "Do not imitate, innovate!" "? Who has forgotten these young models all in jeans and white t-shirts who will come to break the ultra elegant image of Hugo Boss to assert themselves more modern and young than ever?
And the aura of this Hugo Man still endures in Hugo Boss advertising campaigns even though they will be created more than 24 years later! Indeed the Hugo Reversed campaignis clearly an echo to that of Hugo Man as much by its slogan "Breaking the mold" which one could easily compare to that of the male juice of 1995 as by its crazy and ultra trendy energy carried out as much by the black graphics, white and reds than by the electro music of the group Justice.
Hugo Reversed therefore claims to be the spiritual and perfumed son of the great Hugo Man, and his absolute and ultra modern contrasts will remind us of those who were highlighted in Hugo man.
The ultra modern impulses of Hugo Reversed between energetic freshness and woody sensuality
Hugo Reversed clearly claims to be "an urban fragrance" which will allow men to find the strength to "change direction", a positive energy carrying hope and freedoms.
However Hugo Reversed may be unique, he has also managed to preserve the rather traditional beauty in male perfumery of aromatic notes or even citrus notes. Hugo Reversed will kick off with an ultra tonic surge of notes of Calabrian bergamot and fresh grapefruit. At the heart, rosemary sends its full force to us like a burst of pure energy that is both natural, powerful and reassuring with its classic echo in male perfumery. Finally, Haitian vetiver will draw this Hugo Reversed man an intensely masculine and virile trail while highlighting a hot-cold contrast to absolute modernity.
"For men who like to set the bar ever higher, HUGO Reversed has created a fragrance with reinterpreted and refreshing scents, an urban cocktail of revitalizing citrus, aromatic rosemary and vetiver with fresh and contrasting notes. »Hugo Boss for Hugo Reversed.
Hugo Man's revisit with Hugo Man Extrême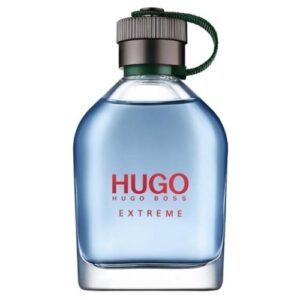 Hugo Men Extrême signs virility in 2016
With Hugo Men Extrême, which saw the light of day in 2016, the Hugo Boss house offers a younger, less structured and less uninhibited fragrance. Still as modern as its predecessor, Hugo Men Extrême is nevertheless much more intense.
Both virile and powerful, the Hugo Man Extrême fragrance is defined as the fragrance for young and determined men. With a strong character, the Hugo Men Extrême man knows what he wants.
Il est élégant, mais aussi intelligent et aime prendre soin de lui. Sa composition reprend la note de la pomme verte, jouée ici en surdose. Fruité et dynamique, le départ laisse place à une association aromatique-florale grâce à la présence de la lavande, de la sauge et du géranium, des accords résolument masculins. Virilité qui ne cesse d'augmenter pour atteindre son apogée au cœur des notes de fond, qui conjuguent le cèdre et la résine de sapin. Le flacon reprend les principaux codes de son ainé, avec une grande élégance.
Hugo Iced, une fraicheur intense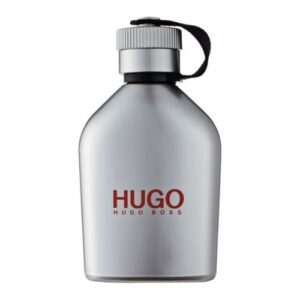 En 2016 Hugo Boss rafraichit sa fragrance star avec Hugo Iced
Ultra frais et revitalisant, Hugo Iced sort en 2016 et sonne comme un vent de glaçon intense. Toujours aussi moderne que son prédécesseur, Hugo Iced est une fragrance qui se destine à des hommes urbains, dynamiques et élégants à souhait.
Toujours synonyme de jeunesse, Hugo Iced offre de nouvelles senteurs et un caractère bien à lui. La maison Hugo Boss affirme en effet, qu'Hugo Iced est « glacé, vibrant et stimulant ».
Concentré de fraicheur aromatique, le parfum Hugo Iced s'inscrit parfaitement dans la lignée des parfums d'Hugo Boss, élégants et masculins. Énergique et libre, la composition s'envole sur la fraicheur de la menthe poivrée, intense et vibrante. Puis, Hugo Iced s'offre une tonalité végétale grâce à la présence du thé vert. Boisé et ultra masculins, les notes de fond offrent à la fragrance toute sa virilité, principalement avec le vétiver. Toujours en forme de flasque, le flacon d'Hugo Iced est pour l'occasion recouvert de gris métallisé apportant un côté ultra contemporain.
Hugo Urban sonne comme une déclaration d'indépendance
Hugo Urban, le dernier né des parfums Hugo
En 2018, la brand Hugo Boss présente une nouvelle réinterprétation de sa fragrance star Hugo, avec Hugo Urban. Hugo Urbain est épris de liberté et symbolise la fragrance des hommes modernes et urbains.
Toujours aussi dynamique que ses prédécesseurs, Hugo Boss relève ici le défi. Si la composition est également dotée de fraicheur, elle n'en reste pas moins audacieuse. Que l'on ne s'y trompe pas, Hugo Urbain arbore, pour l'occasion, un look urbain, contemporain et résolument citadin avec un flacon de couleur gris bétonné.
Peut-être plus jeune que ses prédécesseurs Hugo, Hugo Urbain s'adresse aux hommes avides de liberté. Les notes de têtes piochent immédiatement dans l'insolite puisque l'on découvre une association d'agrumes et de fleur de l'Himalaya. Cette limpidité se jette dans un cœur aromatique et intense grâce à la présence du thé noir. Enfin, le fond est à la fois boisé et ultra sensuel puisque le bois de gaïac laissera un sillage inoubliable…
Hugo Red, la fragrance d'un homme aventurier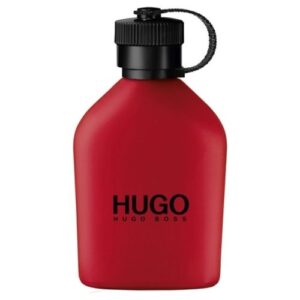 Libre avec Hugo Red
Hugo Red offre en 2013, non seulement une nouvelle déclinaison d'Hugo, mais offre également une bougie pour fêter les 20 ans du département couture de la maison Hugo Boss.
Toujours aussi libre et moderne que ses ainés, le parfum Hugo Red est néanmoins destiné aux hommes aventuriers. Captivant et attirant avec sa couleur flamboyante rouge vif, Hugo Red déborde d'énergie. L'homme Hugo Red assume ses désirs et brule la vie par les deux bouts. Si c'est un homme ultra dynamique, l'homme Hugo Red n'en est pas moins élégant et charismatique.
La composition est tout aussi excitante que l'homme puisqu'elle affiche un contraste entre le chaud et le froid réellement très audacieux. Le départ est en effet, frais et acidulé avec la présence de la rhubarbe et du pamplemousse. En parallèle, l'ambre et le bois de cèdre forment un duo intense et très sensuel. Virile et envoutante, la fragrance Hugo Boss n'a rien a envier à ses prédécesseurs…
Hugo Just Different Eau de Toilette, entre dynamisme et émotion
Hugo Just Différent, si différent mais si semblable
Sorti en 2011, Hugo Just Different est sûrement celui qui ressemble le plus à l'original, avec une émotion supplémentaire. Si Hugo Just Different est aussi dynamique que ses prédécesseurs, il est néanmoins beaucoup plus tendre et offre une émotion inédite.
Hugo Just Different ne ressemble à aucun cas, car c'est lui, tout simplement. Ici, la brand Hugo Boss nous entraine sur des territoires inconnus, comme inexplorés. Plus imaginatif, Hugo Just Different est une fragrance captivante, dont on ne peut se séparer.
La fraicheur boisée et virile est travaillée ici de façon ultra contemporaine. La composition associe, en notes de tête, la menthe givrée avec des notes aromatiques, apportant son lot de fraicheur vive. Puis, la fragrance évolue sur les tonalités florales du freesia rehaussées par la coriandre, la menthe et le basilic. Les notes de fond conjugueront alors un aspect boisé et sensuel avec la présence de patchouli, de mousse de chêne, d'encens, de labdanum et de bois de cachemire.
Marque typiquement masculine, la brand Hugo Boss a su se renouveler et offrir des fragrances réellement modernes. Avec les parfums Hugo, la maison Hugo Boss assume une masculinité virile et contemporaine. Les fragrances Hugo sont toutes destinées à des hommes jeunes, qui s'assument. Ce sont également des hommes charismatiques à qui l'élégance est comme une seconde peau. Si Hugo a connu un énorme succès en 1995, ses différentes revisites l'on rendu encore plus célèbre. Plébiscités dans le monde entier, Hugo, Hugo Iced, Hugo Red, Hugo Just Different, Hugo Men Extrême, ou encore Hugo Urban sont les parfums d'hommes aussi élégants que contemporains.